Winuaby XL Oil
Omega Fatty Acids for your dog!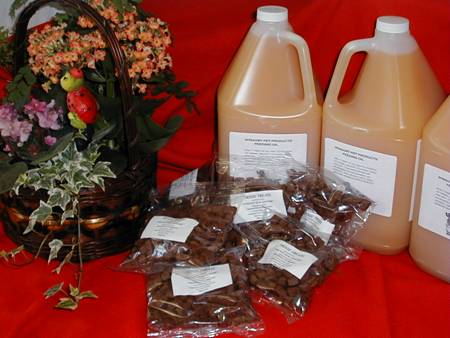 Winauby Pet Products
We have a remarkable product to enhance coat, skin, and overall good health, Winauby XL Oil. This whole body fish oil offers naturally occurring amino and omega acids, along with Vitamins A and D. Due to the herring used, the oil contributes to better overall health, cuts shedding (50% or better), lubricates joints, helps digestion and promotes healthy skin and shiny coats. Fish oil is a palatable nutritional supplement containing essential fatty acids, vitamins and minerals. Winauby XL Oil has nothing added to it and more importantly, nothing taken away. Squeeze a herring and this oil is what you get. It has been filtered but not deodorized. This product is used as a supplement in feed and is accepted by Agriculture Canada Feed and Fertilizer Division as a direct feed ingredient.
Price is $65.00 per gallon, shipped world wide.
Call for large quanity discounts